Floating litter is often ingested by marine wildlife or can lead to entanglement and eventually death. Plastic is non-biodegradable and so causes a particular problem – plastic litter has increased by 135% since 1994 and accounts for 64% of all rubbish found on UK beaches.
What happens to the data collected?
Beach cleans and litter surveys are part of the Marine Conservation Society's (MCS) Beachwatch Project. It's a great way help keep this beautiful section of shore tidy, while collecting valuable data on litter for MCS. Combining a litter survey with the beach clean is essential in gathering important data on where the litter is coming from and how much of it there is.
Get involved
Join a local beach clean event, organise one yourself, or even do a two minute clean while out for a walk - you'll be amazed at what you'll find.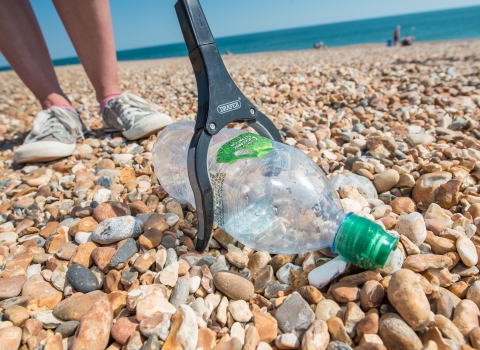 Community beach cleans
Look out for beach cleans in your area, organised by individuals, beach clean and litter pick community groups, and organisations like Southern Co-op.
If you can't find one, why not organise on yourself with your family, neighbours or friends. All you need is a rubbish bag, and a pair of gloves or a litter grabber, and ten minutes to spare.
We hope to run a beach clean in September 2018 as part of the Marine Conservation Society Great British Beach Clean weekend.
More on our work on marine issues