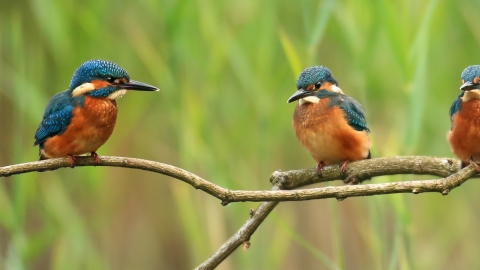 Hockley Meadows Nature Reserve
Historic water meadows along the River Itchen, perfect for a revitalising walk
Know before you go
Entry fee
Donations welcome
Parking information
Parking available in a layby on A3090 Hockley Link or in Shawford village.
Bicycle parking
No cycles permitted on footpaths. The nearest bike racks are at Shawford railway station.
Grazing animals
British White cattle and Shetland sheep.
Walking trails
The north–south footpath  runs between Hockley Golf course and Shawford Bridge - this footpath is narrow and bumpy in places. The west-east footpath runs between Twford Meads and Hockley  Mill - this path isfairly flat and level.  
Please keep to paths to avoid disturbing the wildlife.
Access
There are two public rights of way along the perimeter of the meadows. The Navigation footpath runs along the western edge (north of Twyford Meads and Shawford). Access across the meadows passes along the southern boundary from the B3335, Hockley Mill and joining the Navigation footpath. Access only permitted along public rights of way.
When to visit
Opening times
Open at all times
Best time to visit
Kingfishers, brown trout, buzzards can be spotted all year round, while spring brings water avens, marsh marigolds, yellow flag irises and chiffchaffs. Summer sees swifts, swallows and house martins swooping over the meadows.
About the reserve
These historic water meadows near Winchester host a diverse mix of habitats, including flower-rich fen meadow, lowland neutral grassland, reedbed, stream and willow carr.
Hockley Meadows nature reserve supports a range of wildlife, including kingfishers and brown trout. As you wander alongside the tranquil meadows, you may notice our cattle grazing, and the beautiful plants in the water meadow ditches such as southern marsh orchids, water avens and cuckoo flowers.
Veteran trees offer homes to barn owls, bats and buzzards - it's worth stopping for a minute to see who is out hunting. As well as being an excellent place to see a myriad of bird and plant life, this reserve is excellent for insect spotting.
Hockley Meadows is a wonderful reserve to visit if a relaxing walk is what you seek – there's nothing more revitalizing than the rippling waters of the Itchen Navigation and the fresh green views across the valley.
Species
Environmental designation
National Park
SAC SSSI
Site of Special Scientific Interest (SSSI)