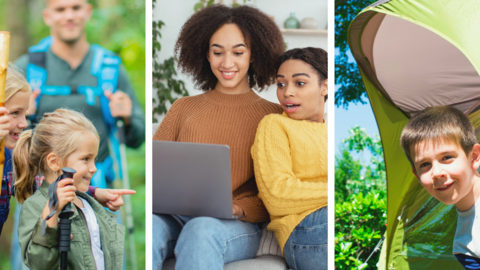 Wilder Festival and Annual Awards
Location:
ONLINE,
On your digital device
Join us in celebrating the people, wildlife, and conservation work in Hampshire and the Isle of Wight.
About the event
This year, to celebrate the amazing actions for nature that are happening all over our two counties, we're hosting our inaugural Wilder Festival and Annual Awards!
We have a packed schedule for you, your friends, and your family to take part in and because this is all online, you can come and go as you please!
Get excited for the following:
SATURDAY
10:00 - Welcome to the Wilder Festival & Annual Awards
10:30 - Live Pond Dip
11:30 - Little Duxmore Farm, Tales of the Unexpected
13:00 - Lunch outside or watch our mindful videos
14:00 - Wilder Annual Awards Ceremony
19:00 - Storytelling by a campfire
SUNDAY
9:00 - Live Unpacking of a moth trap
10:00 - Welcome to Day 2 of the Wilder Festival & Annual Awards
11:00 - How Wild Are We? Become a citizen scientist!
11:30 - Bartley Heath Transformation with Clive Chatters
12:00 - Virtual Reserves Tours
**This timetable is subject to last minute changes.
When and where?
The festival will take place online from 19th to 20th June.
All of the festivities will be recorded and live on the event's website, even after the weekend is over. So, book your tickets now and if you can't come to all the events during the festival, you will still have access to all our recordings until 20th July 2021.
This event is how Hampshire & Isle of Wight Wildlife Trust are choosing to celebrate the Big Wild Weekend of #30DaysWild.