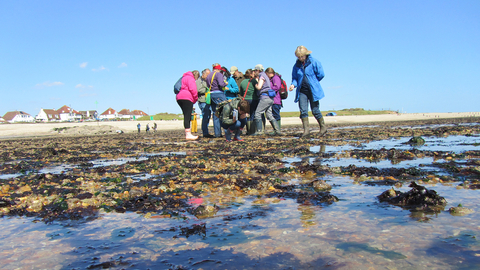 Intertidal Survey - Freshwater
Location:
Freshwater Bay Long Stay Car Park,
Gate Lane,
Freshwater,
PO40 9US
Book
Enjoy our glorious coast and help to protect local marine wildlife with our intertidal surveys.
About the event
This event forms part of Secrets of the Solent, an exciting four-year marine project supported by the Heritage Lottery Fund. The project is celebrating the amazing wildlife and people that share the Solent's coast and waters, through art, cuisine, citizen science, and more.
Covid Secure Mission Statement:
Hampshire & Isle of Wight Wildlife Trust continues to take steps to help limit the spread of Covid-19. We are keeping the situation under review, and so there may be the need to change your booking at short notice. The below statement outlines what to expect from us, and what we expect from you. If you do not adhere to the guidelines outlined below, we reserve the right to stop your session and ask you to leave.
What to expect from us:
· We will follow the latest government guidelines- your visit could be cancelled or postponed at short notice if guidance changes· We will always remain 2 metres apart from you
· There is no access to Wildlife Trust managed toilets during your visit- if you choose to use public toilets you do so at your own risk
· We will continue to provide first aid and emergency care for you. In an emergency we may not be able to maintain social distancing, staff providing the first aid will wear appropriate PPE
· We will not be providing snacks or drinks. Participants will need to bring their own.
· If one of our staff delivering your event becomes unwell within 2 weeks we will inform you
What we expect from you:
· You will follow the latest government guidelines
· You will share this statement with all members of your group
· You will remain 2 metres apart from staff, volunteers and other group participants (unless they are part of your family)
· You remain responsible for arranging your own travel and checking all relevant risk assessments for travel are in place
· If you or someone within the group becomes unwell within 2 weeks you will inform us by contacting the staff member who booked your event.
Toilets
There are no Trust managed toilets on site. You use public toilets at your own risk.
New Survey format
To limit the spread of Covid-19 we have had to review and change how we usually run our intertidal surveys. These are the way's we've have to change our current system:
All participants and staff will remain a minimum of 2 metres apart at all times.
The event will be 3 hours long to ensure we have enough time to properly sign in, safety brief, provide kit and survey the shore.
We can only have 6 participants per staff member.
Participants will no longer be able to work in survey groups with their fellow volunteers and have to complete the survey on their own (alongside staff help). If you and another participant are within a household bubble together you may work together in a team.
Due to this, we ask for only volunteers who have been on one or more of our survey's before, as we can no longer offer the same support and guidance as we would normally do.
You will be asked to pick up a clipboard with the survey forms from your group's pop up sanitising station. You will be responsible for this equipment. No one should touch this equipment except you. After the survey we will ask you to place it into a special box.
You must be either over 18 or over 16 and accompanied by a participating parent or guardian.
We advise you to bring your own Shore I.D guide if you have one, as we will have a limited number to hand out.
It is essential to bring along some form of a camera along to record your findings. We cannot give out ours for this event.
You must read through our risk assessment and safety briefing statement (sent in a email to you) before the event and acknowledge you have read this and are happy to attend this event. If you have not done this the day before the event, we reserve the right to turn you away from attending the event.
When you sign up to this event, we will keep your details for 2 weeks as part of our track and trace program. If for any reason a participant or staff member falls ill with suspected Covid-19 after the event within the 2 week period, we will contact you to let you know so you may act accordingly.
As this is a outdoor event with social distancing of greater than 2 metres, you will not require to wear a mask if you do not wish to.
WHAT TO BRING
- Warm, weatherproof clothing and a hat as many survey areas are exposed and can be windy.
- Sturdy (ideally waterproof) footwear with good ankle support.
- Sun protection and water if it's a sunny day.
- Washing up gloves if it's a cold day, for keeping your hands warm when rummaging in rockpools. There will be gloves provided if needed.
- A hand lens and guide to sea shore species if you have them.
- A camera or smartphone (switch on location services) for recording your finds.
- A drink and a snack.