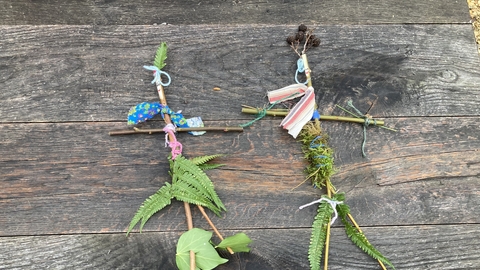 Forest Folk
Location:
Ellingham Drove,
Ringwood,
Hampshire,
BH24 3PJ
Self-led activity: Make yourself a Forest Friend before discovering some fun activities on the 'Wild Walk' circular loop
Event details
About the event
Make your Forest Friend by the Welcome Hut, using wool to tie a short stick (arms) to a 'y' shaped stick (body and legs). Give your Forest Friend a scarf if you wish and take a couple of extra pieces of wool with you to add on a headdress, trousers or a skirt using any natural materials you come across - let your imagination get creative!
From the Welcome Hut head off on the mile long circular 'Wild Walk' loop and keep an eye out for the activity signs on the way.
Have fun!
Booking
Suggested donation
Suggested donation £3: can be made by cash in the green donations box on the fence in front of the Education Centre or by card using the contactless pay terminal by the Welcome Hut
Suitable for
Families
Know before you go
Mobility
The circular 'Wild Walk' loop is pushchair and wheelchair friendly 
What to bring
Please dress for the weather on the day and wear suitable footwear
Parking information
Please park at the Education Centre
Contact us
Jim Day or Tracy Standish