Hampshire & Isle of Wight Wildlife Trust response to Coronavirus
The Trust continues to take steps to help limit the spread of Covid-19.  
Hampshire & Isle of Wight Wildlife Trust are constantly reviewing the guidance about Covid-19 and taking the necessary steps to protect the health and safety of members of the public and our volunteers and staff. We will keep this page updated with the latest news about the measures we are taking to keep people safe and how these may affect you when visiting and contacting us.
The Wildlife Trusts urge people to enjoy local wildlife and maintain a connection with nature to help boost their wellbeing, whilst remaining mindful of guidance.
Nature continues to bring many of us solace in these difficult times, so do continue to take a moment out of your day to enjoy the wild places around you, whether that be in your garden or local green space. 
Latest update: January 2021
In response to the latest Government guidance, the majority of our staff are still working from home and our offices remain closed. Please be aware that it may take longer than normal to respond to enquiries.
Our Nature Reserves will remain open for local visitors to take their permitted exercise, and we encourage you to visit and enjoy wildlife during your daily exercise.  If visiting our nature reserves, we would ask that all visitors follow strict social distancing guidelines during their visit to ensure their safety and the safety of those around them.  
Please stay local to where you live and enjoy your local wildlife, do not travel to our nature reserves.
Please note: all bird hides and centres will be closed to comply with the latest restrictions. 
We will continue to maintain an on-site staff presence to ensure the safety of visitors, as well as ensure the continued appropriate use of the nature reserve in such a manner that the wildlife conservation priorities of the site are not adversely affected by visitors.
November 2020
Our nature reserves and carparks remain open at the moment. However, our head office and bird hides are closed. Our education centres also remain closed to the public but may be opened for booked school visits. Volunteering has been temporarily put on hold. 
Please continue to visit our nature reserves if they are the nearest and most convenient local place for exercise. Please ensure you maintain social distancing as per the government guidelines to keep yourself and others safe, and protect the wildlife you have come to enjoy.
If you can, please travel to our reserves on foot or by bike, practice social distancing and be respectful of the wildlife on site. 
We are keeping the situation under review, and so there may still be a need to close part/all of some nature reserves in future to protect the safety of our staff working on site as well as the public.
For those accessing public rights of way, the Government has urged that the Countryside Code is adhered to. In addition, they advise that:
You maintain a distance of at least one metre, preferably two metres from other people
Hand wash/sanitise after touching any shared surfaces e.g. sites/gates
Keep dogs on a lead around livestock and away from other people/dogs
Leave gates as you find them.
 Stay safe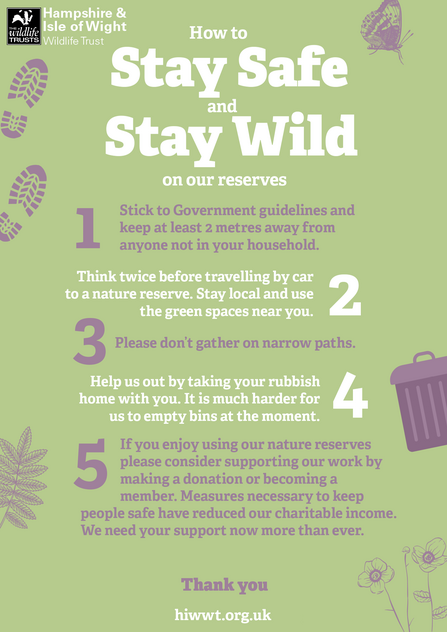 Sign up to our enews to get regular updates for things you can do from home, or in your garden.