Nature, health & wellbeing
Nature, health & wellbeing
Making room for nature in our lives is vital to ensure its protection, but did you know it can also be brilliant for your health and wellbeing? Time spent in nature is beneficial for your mental and physical health, ranging from a day spent watching birds in the hide, to a walk around a reserve, to our sessions designed specifically for improving mental wellbeing, there's something for everyone.
Woodland therapy is an absolute must for me every week. As soon as I get to Bouldnor my head goes quiet, a total positive extreme to the chaos that usually reigns. Nothing is expected of you, nor are you judged by your mental illness. It's great to be treated as an equal.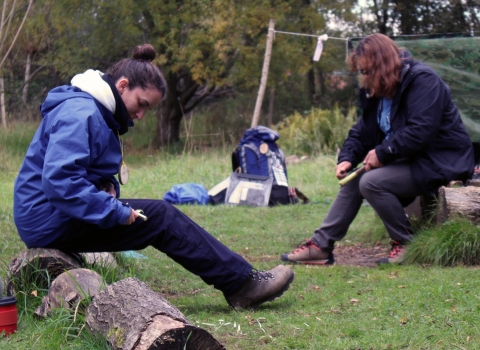 Woodland Therapy
Bouldnor Forest Nature Reserve
Weekly nature connection activities for adults on the Isle of Wight living with mental health conditions.
Activities include green woodwork projects, campfire cooking, wildlife watching and friendship. Please get in touch to find out more.
Find out more about Woodland Therapy
Please contact Kathy on ioweducation@hiwwt.org.uk 01983 760018
This project has only been made possible with generous funding support from
Big Lottery
Support your own natural wellbeing
Forthcoming events