My Wild Life: Benjamin Constable
Benjamin, one of our Marine Champions, shares his thoughts on pursuing a career in conservation and finding a likeminded community.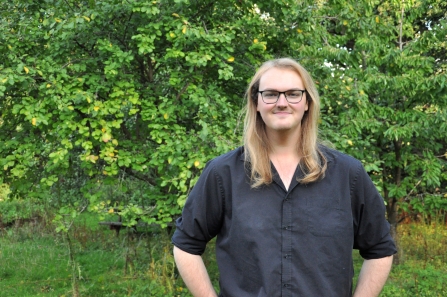 Hi my name is Benjamin - I'm 23, a zoologist, passionate about our natural world, and (proudly) a massive nerd.
I have had a lifelong passion for wildlife, which was founded in watching David Attenborough documentaries and being a member of the RSPB's Wildlife Explorers as a kid. I must admit that for a very long time I only really cared about the big carnivores and other, more exotic, wildlife you find on the plains of Africa and other far‐flung locations.
Recently, however, I have really come to appreciate the diversity of our native wildlife here in the UK through my career and volunteering activities. There are many fantastic species here that frequently get overlooked because there is such a misconception about our own wildlife being boring. We have short‐nosed seahorses and thresher sharks in our waters, and there are peregrine falcons hurtling through the skies - this is not a boring place to be!
Becoming a Marine Champion
I started volunteering with the Wildlife Trust in January 2019, as a Marine Champion on their project Secrets of the Solent. I was drawn to the project out of curiosity: I had studied various marine environments before but was completely unfamiliar with the wild diversity beneath the waves of the Solent. Like many people, I assumed it was barren, ruined, and devoid of life... that decades of shipping pollution must have either killed or driven away any marine creatures.
However, I quickly discovered just how diverse the Solent is; it's filled with fascinating and often wacky wildlife, like the colour-changing cuttlefish or the velvet crab with its devilish red eyes. The people who were already a part of the project talked about it so passionately that it drew me in immediately.
Being a Marine Champion has been fantastic. I have met so many new people who share my enthusiasm for wildlife and that creates an instantly magnetic atmosphere. In my role I have visited shows, run wildlife walks, and organised ferry safaris - it has all been tremendous fun. Now I am greatly looking forward to throwing caution to the wind and getting up in front of a crowd to deliver some (hopefully) inspiring presentations to the unsuspecting public.
"Wildlife conservation is a passion‐fuelled community, and if you let your love of wildlife shine through then you'll be welcomed with open arms."
Wild at work
I knew for many years that I wanted to go into a wildlife-based career. Originally it was to be a wildlife cameraman, taking inspiration from people like Simon King, Steve Backshall, and of course the wonderful Sir David Attenborough. But while preparing for university I decided that I would go for a science course instead of filmmaking.
I went to study zoology at university with the intent of going on to either a conservation career or a PhD in order to become a research scientist. It seems I've gone with the former for now, but I definitely haven't ruled out the latter as a possibility for some point in the future. Although it took a while after graduating, my degree really helped set me up with the skills and knowledge I needed to get into the conservation sector.
A little while ago I got a job as a Membership Development Officer for the RSPB. It was a big milestone for me as it is my first step into forging a career in the wildlife conservation community; a 'foot in the door' if you will. Now I travel all over Hampshire trying to ignite the same passion for the natural world that I have in the people I meet. The experience I have gained as a Marine Champion - setting up a stall, talking to people and spreading that enthusiasm for wildlife - proved critical for landing this job.
Plus, my dear friend Emily Stroud (Community Engagement Officer for the project) very kindly let me borrow some marine specimens for a short presentation I had to do at the interview. So whilst other candidates looked highly organised with flip charts and handouts, I turned up with a box rattling with shells and cuttlefish bones! It was rather quirky, I suppose, but it let me demonstrate both my knowledge and my enthusiasm which I think played significantly in my favour, and is a gesture I shall always be immensely grateful for.
Looking forward
Why should we all do our bit for nature? Well, what would we have without it? There's only one planet Earth, what do we do if it's ruined? We rely so heavily on the natural world, for both our physical needs and our mental health. There is such fascination and wonder to the fine balance of the nature; its ecosystems and creatures have developed over millennia and are infinitely complex. Every time we think we understand it, we are surprised once again. We cannot let it be destroyed because of our greed and lack of foresight.
If you want to work in the conservation sector, then passion and enthusiasm are your greatest allies. It's a competitive field so you need to have that passion to drive you through all of the rejected applications and disappointing interviews. But people will respond really well if you're bursting with enthusiasm, get excited about conservation stories, and show optimism for the future of our natural world despite the threats it faces. Wildlife conservation is a passion‐fuelled community, and if you let your love of wildlife shine through then you'll be welcomed with open arms.
What can you do?
Huge thanks to Benjamin for sharing his journey with us. If you'd like to become a Marine Champion, or support our marine wildlife in another way, our project Secrets of the Solent is a great place to start.