Go WILD with Hampshire and Isle of Wight Wildlife Trust
Can you do one wild thing a day throughout the whole of June? We believe you can! Join thousands of people taking part in our annual nature challenge, 30 Days Wild! Do it for your health, wellbeing, wildlife and the planet!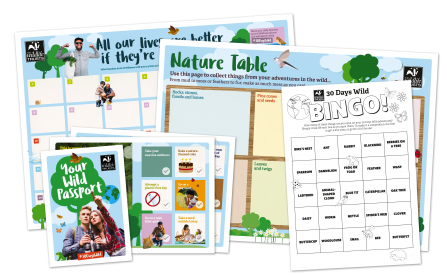 What's in a 30 Days Wild pack? 
When you sign up, you'll be able to download a host of goodies to help you plan your month. You'll have a wallchart, wildlife bingo, an activity passport and a nature table template. We'll send you lots more resources leading up to June too, from instructions for baking hedgehog cupcakes to a beginner's guide to wildlife photography.
Why take part?
While nature needs us more than ever, the reverse is also true. We're all part of nature, and it should be a part of our lives. Over the past five years, we've been working with the University of Derby to find out about the impact that 30 Days Wild has on participants. The results show that people feel happier and healthier after taking part, and for months after too!
30 Days Wild doesn't start and stop in June
There's so much to see all year round, and a little bit of nature every day does make you feel happier and healthier. While we're spending more time at home, we encourage you to go as wild as you'd like before and after June. Here are some ways to get involved with Hampshire and Isle of Wight Wildlife Trust.
Share your 30 Days Wild adventure with us on social media
You can share all the things you do with us on social media using #30DaysWild along with thousands of other people taking part.
Hampshire and Isle of Wight Wildlife Trust are also using #TeamWilder #HampshireWindowWildlife and #IslandWindowWildlife for all things wild!
Who are The Wildlife Trusts?
The Wildlife Trusts is a grassroots movement, made up of 46 individual Wildlife Trusts operating in every corner of the UK, Alderney and the Isle of Man. We care for 2,300 incredible wild places, from remote woods and wild rivers to inner city pockets of nature. We also look after the amazing wildlife that lives on our coasts and in our seas. By taking part in 30 Days Wild, you can help us to achieve our mission of bringing people closer to nature, and land and seas rich in wildlife.